As a parent of a Crown Prep scholar, you play a vital role in the growth of our school community. Our goal is to provide your child with the highest-quality middle school education so that he or she can succeed in high school, college and beyond. Although we implement effective curriculum and promote strong character traits, we need your help to achieve our goal.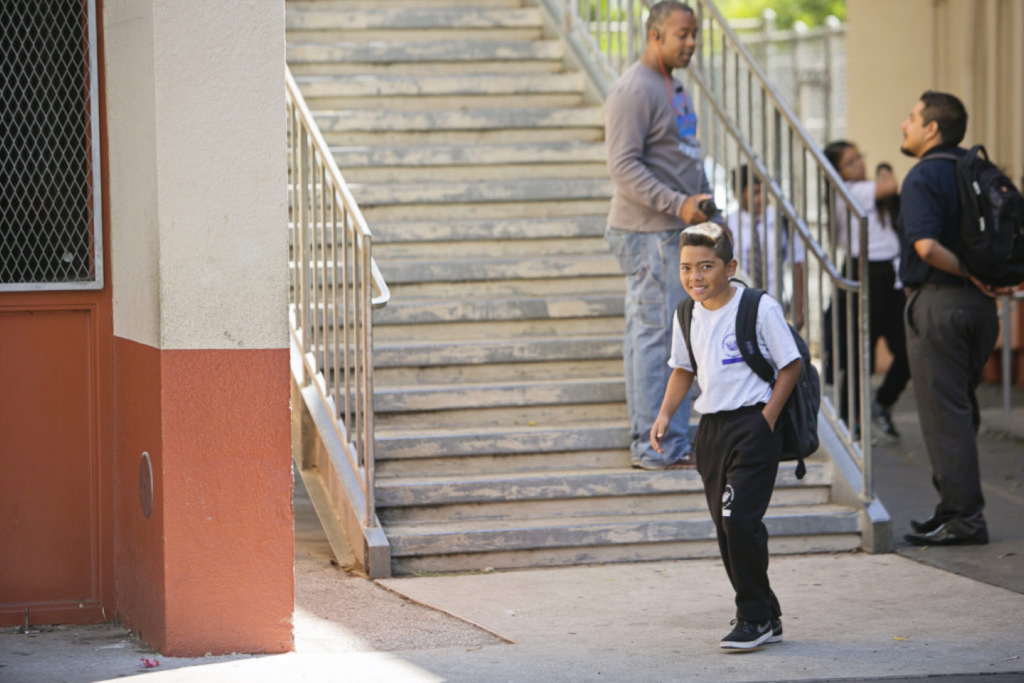 Your child's attendance is of utmost important in his or her success. Studies indicate that middle school absenteeism is highly predictive of academic achievement and on-time high
school graduation. This means that missing class in middle school is likely to significantly impact a scholar's performance in high school. At Crown Prep, our rigorous academic curriculum and high expectations mean every day is important to the education of your child. Missing one day of instruction at Crown Prep is like missing three days at a typical school elsewhere. Help ensure that your scholar receives consistent, uninterrupted instruction by ensuring that he or she is at school, on time and ready to learn. Help us help them by doing your best to avoid early dismissals and by scheduling appointments after school hours or on the weekend.
Open House & Parent Teacher conferences
Twice each year, Crown Prep hosts an Open House where we invite all Crown Prep parents and families to visit the campus and talk with their children's teachers. This gives teachers the opportunity to inform you about what you child will be learning this year, the type of homework that can be expected, what is required of your child in class, and the type of help they expect from you. Additionally, Crown Prep holds Parent-Teacher Conferences two times each year. It is critical that you attend this meeting with your child's teachers so they can discuss your child's performance, how they can improve, and opportunities available to support them.
Crown Prep parents and families have a number of opportunities to become involved through school volunteer programs, parent workshops, monthly cafecitos and town hall meetings, as well as other school-sponsored events. We encourage all Crown Prep parents and families to contribute at least 10 hours of service throughout each school year to support our students and the greater school community. For more information about how you can get involved, please contact our Parent Liaison in the Main Office at 213-448-9747.
STEM Prep Schools takes a proactive stance when addressing bullying and cyberbullying issues. We believe that every student has the right to attend school without fear of threat or intimidation by other students. All discrimination, harassment, intimidation, and bullying on the basis of a student's actual or perceived disability, gender, gender identity, gender expression, Religion, Sexual Orientation, race, nationality, ethnicity, or immigration status, or association with a person or group with one or more of the aforementioned characteristics, is strictly prohibited. Students who experience threats, harassment/bullying by a student or students or an adult in school or on the way to or from school, are expected to report these incidents to a school guidance counselor and/or school administrator. Students who witness or have knowledge of another student's mistreatment are asked to report this to a guidance counselor and/or school administrator. Students may report the incident verbally or in writing. Retaliation against a person who reports bullying and/or cyber-bullying, provides information during an investigation of bullying and/or cyberbullying or witnesses or has reliable information about bullying and/or cyberbullying is prohibited.
The School Site Council (SSC) is the group of elected parents, teachers and students. The SSC meets throughout the year to develop, evaluate and update the Local Control Accountability Plan (LCAP).
2023-24 SSC Meeting Dates:
Meeting 1: November 7th, 2023 at 2:00 PM via Zoom
Meeting 2: December 7th, 2023 at 2:00 PM via Zoom
Meeting 3: 
February 13th, 2024 at 
2:00 PM via Zoom
Meeting 4: April 11th, 2024 at 
2:00 PM via Zoom
2023-24 ELAC Meeting Dates:
Meeting 1: TBD
Meeting 2: TBD
Meeting 3: TBD
Meeting 4: TBD